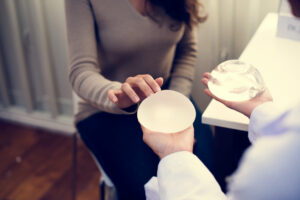 Breast augmentation is one of the most popular cosmetic procedures in the U.S. Breast enhancement surgery is customized to each patient to help them achieve their unique aesthetic goals. An important step of the breast augmentation process is figuring out the optimal implant size for the patient. Although there may be women who desire a big increase in breast volume, the overall goal is to enhance the breasts in a way that compliments the body and does not look unnatural.
Our board-certified plastic surgeon, Dr. Stephen Herring, always recommends the breast implant size that can provide the most beautiful and natural-looking outcomes. To determine the right breast implant size for each patient, Dr. Herring may use breast sizers. These are anatomic (breast-shaped) devices that are placed inside a bra or other garment to show how the breasts can look after surgery. Patients can try on multiple sizes until they find the best one that fits their cosmetic desires.
To learn more about breast sizers and how they can assist in determining the ideal breast implant size, we encourage you to view Dr. Herring's plastic surgery website to read a full blog post on this subject.
If you have any questions about breast sizers or breast augmentation, please do not hesitate to contact our office. We can also help schedule a complimentary consultation with Dr. Herring, if interested.