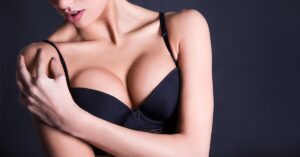 Breast augmentation patients have a lot of factors to consider when choosing their breast implants. One important decision that patients must make with their plastic surgeon is the breast implant placement. Our board-certified plastic surgeon, Dr. Stephen Herring, can perform the "pinch test" to help determine if the breast implants should be positioned "above" or "below" the breast muscle(s). Ultimately, the implants can either be sub-mammary (above the breast muscle and underneath the mammary gland), sub-fascial (above the breast muscle and underneath the breast gland and fascia), partially sub-muscular (partially underneath the breast muscle and breast gland), or totally sub-muscular (completely underneath the breast muscle). During your consultation, Dr. Herring will go over each option in more detail and discuss what factors to consider when choosing a specific implant placement.
To learn more about the pinch test and how it can help find the optimal breast implant placement for your needs and cosmetic goals, we invite you to visit Dr. Herring's plastic surgery website to read a full blog article on this topic. By reading this blog article, you can better understand the interesting process of the pinch test and what helps guide you and your plastic surgeon in making a decision.
If you would like to schedule an appointment with Dr. Herring to discuss the process of choosing your breast implant placement, or if you would like additional information on breast augmentation, please contact our practice today.