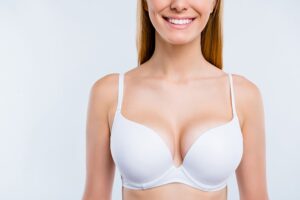 After breast augmentation, it is ideal for patients to have soft and supple breasts. Surgeons sometimes recommend breast massage as a way to keep the breasts from feeling hard after the procedure. Firmness after breast augmentation is usually caused by problematic "capsule" formation. The body responds to having a foreign object placed into the tissues by developing these breast implant "capsules." It is a normal occurrence and most breast augmentation patients experience "capsule" formation to some degree. With that said, some patients may start to feel their breasts becoming harder, causing some discomfort over time. Our board-certified plastic surgeon, Dr. Stephen Herring, highly recommends breast massage after breast augmentation since it can help treat problematic "capsules" before they start becoming uncomfortable. Patients can typically start doing breast massage a few days after breast augmentation and continue on a daily basis. Breast massage usually takes about two minutes to do. Patients simply compress the breast implant with their fingers and gently move the implant inside the breast.
To find out more about breast massage and why it is beneficial after breast augmentation, we invite you to visit Dr. Herring's plastic surgery website to read a full blog article on this topic. You can learn more about "capsule" formation and get a better understanding of breast massage by reading this blog article.
If you are interested in scheduling a consultation with Dr. Herring or would like additional information on breast augmentation, please feel free to contact us today.